Million Dollar Rock Pot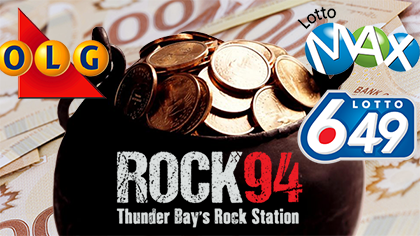 Rock 94 and OLG bring you the Million Dollar Rock Pot, weekdays!
Listen to the Breakfast Bender with Kaile & Ted for the trivia question and answer at 6:45. At 8:45, call (807) 346-ROCK (7625) and repeat the answer to win $100 in Lotto MAX tickets with Encore on Mondays, Thursdays, and Fridays and $100 in Lotto 6/49 tickets with Encore on Tuesdays and Wednesdays. Millions could be yours!
The Million Dollar Rock Pot, from OLG and Thunder Bay's Rock Station, Rock 94!
Note - Apple Inc. is not involved in any way with this contest or sweepstake.