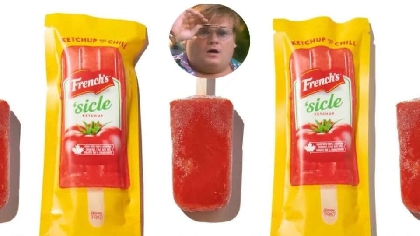 OMG!
NEW! Popsicle Flavour!
French's, a condiment brand mostly known for its mustard, inspired an internet meltdown Monday over its new ketchup popsicle.
The brand touted its "refreshingly savoury & sweet ketchup popsicle, made from 100% Canadian tomatoes," which will be available for a limited time this summer in Canada.
Reactions ranged from "yuk" emojis to multiple references to the 1995 Chris Farley/David Spade comedy "Tommy Boy," in which Spade tells Farley, "You could sell a ketchup popsicle to a woman in white gloves."
The tomato-based 'sicles are made in collaboration with Happy Pops, which specializes in all-natural ice pops. (Well, I guess you could dip it into frozen fries)
If you hear Ketchup Popsicle & don't think of Tommy Boy, you're doing it wrong. https://t.co/FiwfKtvrKO pic.twitter.com/Q4m4jH6ZCK

— Jen Lada (@JenLada) June 20, 2022