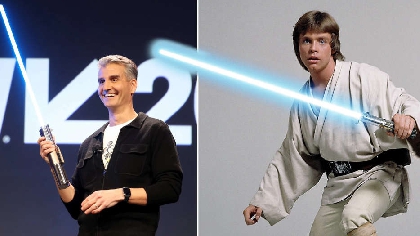 Disney has demonstrated a retractable lightsaber at tech, film, and music festival South by Southwest (SXSW).
Several Twitter users pointed to a patent presumed to be for this version of the device, filed by Disney. According to the patent, the "sword device with retractable, internally illuminated blade" uses motors to unroll a "blade" filled with a strip of flexible lights hidden within its handle.
"The device includes two long plastic semi-cylinders, and these two blade body members are rolled perpendicular to their length, which creates compact cylinders of material of small volume that can be provided on a pair of spools in a hilt," the patent explains, alongside designs for the device.
"To extend the blade, a motor provided in the hilt unrolls the blade body members from the spools. Each blade body member passes through a blade forming guideway that nests the semi-cylindrical blade body members together as they leave the hilt. To retract the blade, the process is reversed."
And the official lightsaber comes out! pic.twitter.com/yLvq3L6Imn

— Disney Food Blog (@DisneyFoodBlog) March 10, 2023
The lightsaber is used in shows at Disney World, but is not currently on sale to the public.