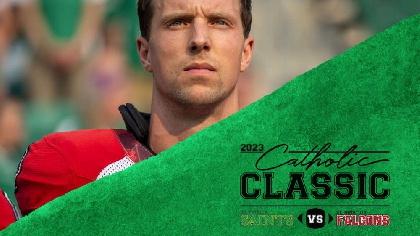 The Thunder Bay High School Football Season Kicks Off Today!
St. Patrick High School will start the season by honouring one of their alumni, CFL defensive lineman Nigel Romick. The school will retire the number 88 worn by Nigel during his playing time with the Saints.
Nigel was selected in the 3rd round of the CFL draft in 2014 by the Ottawa Redblacks. He made his CFL debut later that year.
Over his 9 year career Nigel has played more than 100 games in the CFL and won a Grey Cup with Ottawa in 2016. He is currently one of the longest tenured players in Redblacks history and the franchise leader in special teams tackles.
St. Pats kicks off the Catholic Classic on their home turf at 4PM against St. Ignatius.