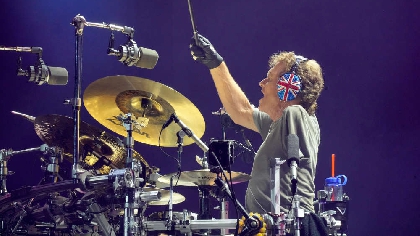 Def Leppard drummer Rick Allen has been violently assaulted outside a hotel in Florida.
The incident happened outside the Four Seasons hotel in Fort Lauderdale on Monday, the day after Def Leppard had performed in Hollywood, Florida as part of their co-headline tour with Mötley Crüe.
According to a police report, 59-year-old Allen was having a cigarette when he was allegedly attacked by a 19-year-old.
Authorities state that Allen 'hit his head on the ground causing injury', with a woman rushing out of the hotel to help him.
The unnamed woman was also knocked to the ground, and the report reads: 'While she is on the ground, the defendant continues to batter her by striking her. (She) attempts to escape by running into the hotel.
'The defendant then grabs (her) by her hair and drags her out of the lobby and back onto the sidewalk before fleeing the area.'
The 19 year old was arrested on Tuesday after being charged with two counts of battery, four counts of criminal mischief, and abusing an elderly or disabled adult.
No tour dates will be affected.