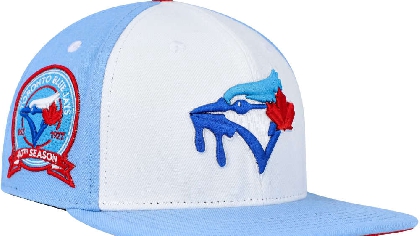 The Toronto Blue Jays open the regular season on Thursday.
And a new Blue Jays hat has the internet talking, wondering, and joking about a mysterious viscous substance dripping from the beak of the baseball franchise's iconic avian logo.
The item added to the Official MLB Shop for $65 is called the "Blue Raspberry Ice Cream Drip hat from Pro Standard" and is described with features including "raised Toronto Blue Jays graphics embroidered with bursts of red and is topped off with a leather button."
Despite the name seemingly explaining the dripping substance as blue raspberry ice cream, it hasn't stopped social media commenters from piling on and ridiculing the design for its perceived suggestive imagery.
The hat is also taking heat for its patch from the 2017 season commemorating the team's 40th season since arriving in Toronto in 1977, though this is apparently a regular practice based on aesthetics over common sense.
It all feels somewhat familiar, as this is by no means the first case of a questionable Blue Jays hat design drawing ridicule from internet randoms.
In 2021, a Jays hat bearing the city's map, area code, and a bowl of poutine (because Americans consistently fail to understand that Canada's provinces have separate and unique cultures) was flamed so hard that it was ultimately pulled from production.
The new hat isn't the only thing fans can pick up from Rogers Center. The Jays also revealed their new "Poutine dog" that will be sold during home games.