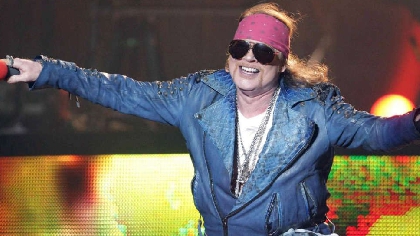 Axl Rose will stop throwing his microphone into the audience following a mishap in Australia
Someone always has to come along and ruin a good thing. For decades now, Axl Rose has ended Guns N' Roses shows by throwing his microphone into the crowd.
But during a recent show in Adelaide, Australia, some woman had to go and get HIT IN THE FACE by it, and end up with two black eyes and a bruised nose. And now . . . no more free microphones for us!
On Friday night, Axl Tweeted, quote, "We don't want anyone getting hurt or to somehow in any way hurt anyone at any of [our] shows anywhere.
"Having tossed the mic at the end of [our] show for over 30 years we always felt it was a known part of the very end of [our] performance that fans wanted and were aware of to have an opportunity to catch the mic."
"Regardless in the interest of public safety from now on we'll refrain from tossing the mic or anything to the fans during or at [our] performances."